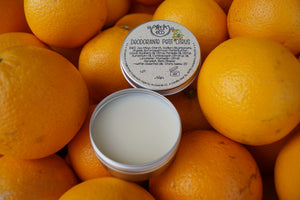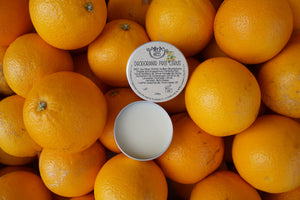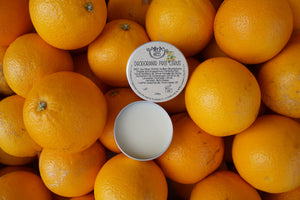 Petit Citrus
Deodorant cream with citirc notes.
INCI: Zea Mays (Corn) Starch, Sodium Bicarbonate, Butyrospermum Parkii (Shea) Butter, Cocos Nucifera (Coconut) organic oil, Citrus Paradisi (Grapefruit) Oil*, Citrus Aurantium (Petitgrain) Oil*, Cymbopogon Citratus (Lemongrass) Oil*
**= essential oils, which contain: Limonene, Myrcene, Citral, Geraniol, Beta Pinene.
This deodorant has a creamy texture and will prevent you from bad smells without blocking your natural sudoration. The essential oils give the cream this sweet citrus fragrance. The consistency of the cream is different depending on the seasons. During the winter is firmer and in summer is creamier. This happens because it is made with natural oils. Coconut oil is solid under 25º. If you prefer the firmer consistency during summer as well, place the deodorant in the fridge.
How to use: take a small amount (like a chickpea) and rub it in your under arm area. Suggested measurement have to be adapted to everybody needs.
The tin can bereturned, unless you are happy to give it a second life as spice box, earings container, soap container for your travels...just few ideas!
Weight: 50gr.