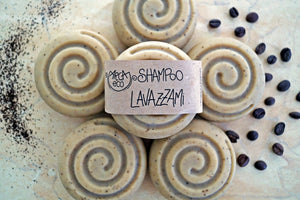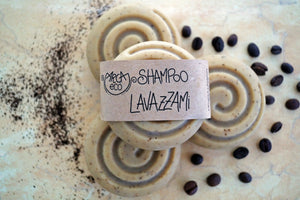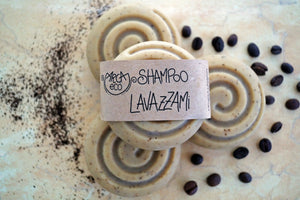 Lavazzami
Saponified Shampoo for thick, wavy and curly hair.
Who wants a coffe? This detergent has lots! It's mixed together with olive oil, coconut oil, castor oil and shea butter to create this shampoo that is really cleansing thanks to the power of coffee that stimulate the hair growth as well. Shea butter guarantees an extra nutrition that goes deep into your pores without blocking them. This shampoo helps you with split ends and dryness The scent of coffe is well mixed with a blend of rosmeary, cedarwood and bay leaf essential oils, that are amazing for the wellnes of your scalp.
This detergent doesn't contain any surfactant, therefore it's suggested an acid rinse after every wash, because it will balance the PH (soap has a naturally alkaline PH, while our skin is slightly acidic), it will help remove any residue and it will leave your hair soft and shiny! You won't need any conditioner, your hair will be easily untangled!
INCI: Olea Europaea (Olive) Fruit Oil, Cocos Nucifera (Coconut) Oil, Aqua, Sodium Hydroxide, Ricinus Communis (Castor) Seed Oil, Butyrospermum Parkii (Shea) Butter, Rosmarinus officinalis (Rosemary) Oil, Cedrus Atlantica (Cedarwood) Bark Oil, Lurus nobilis (Bay) Leaf Oil, Coffea Arabica Seed Extract, Limonene*, Linalool*, Alpha-Cedrene*, Citral*, Eugenol*, Methyl*.
*naturally occurs in essential oils.
Vegan soap.
Weight: 80gr aprox.
Avoid direct eye contact.
Note: as each soap is hand made and hand poured, small variations might occur. That's the beauty of artisan products.