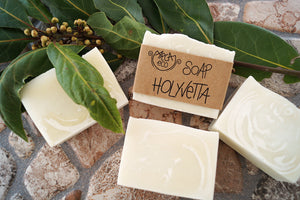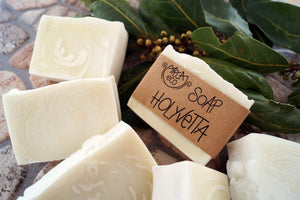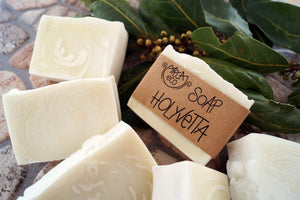 Holyvetta
Marsiglia inspired soap.
This is a 100% olive oil soap. This type of soap is essential for your everyday wash as it has a small creamy foam that improves your skin's moisture and keeps itlooking younger for longer. The colour is derived naturally from the olive oil. I played with the concentration of water to create the whiter shade.
INCI: Olea Europaea (Olive) Fruit Oil, Aqua, Sodium Hydroxide, Cymbopogon Citratus (Lemongrass) Oil, Cupressus sempervirens (Cedarwood) Oil, Laurus nobilis (Bay) Oil, Citral*, Eugenol*, Methyl*, Geraniol*, 3-Carene*, Alpha Pinene*, Beta Pinene*, Limonene*.
*naturally occurs in essential oils.
Vegan soap.
Weight: 85gr aprox.
Avoid direct eye contact.
Note: as each soap is hand made and hand cutted, small variations might occur. That's the beauty of artisan products.