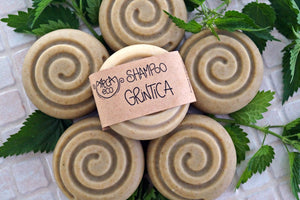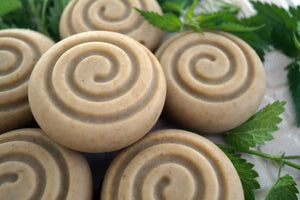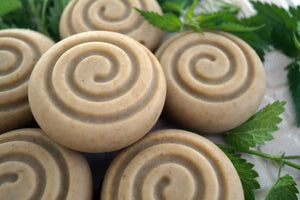 Grintica
Saponified Shampoo for fine and straight hair.
This soap shampoo bar is made using an infuse of nettle which is a plant that has multiple beneficial properties for the hair: it helps you to contrast dandruff, hair loss and scalp irritations. Together with a mix of olive, coconut and castor oil give you a natural nutrition that goes deep into your pores without blocking them. It has a fresh sent given by cedarwood, lemongrass and cypress essential oils, that are good for the wellness of the scalp.
This detergent doesn't contain any surfactant, therefore it's suggested an acid rinse after every wash, because it will balance the PH (soap has a naturally alkaline PH, while our skin is slightly acidic), it will help remove any residue and it will leave your hair soft and shiny! You won't need any conditioner, your hair will be easily untangled!
Olea Europaea (Olive) Fruit Oil, Cocos Nucifera (Coconut) Oil, Aqua, Sodium Hydroxide, Ricinus Communis (Castor) Seed Oil, Nettle herb powder, Cupressus Sempervirens (Cypress) Oil , Cedrus Atlantica (Cedarwood) Bark Oil, Cymbopogon Citratus (Lemongrass) Oil, Moringa Oleifera leaf powder, Citral*, Pinenes*, Geraniol*, Limonene*, Longifolene, Alpha-Cedrene*, Alpha Pinene*, Beta Pinene*.
*naturally occurs in essential oils.
Vegan soap.
Weight: 80gr aprox.
Avoid direct eye contact.
Note: as each soap is hand made and hand poured, small variations might occur. That's the beauty of artisan products.