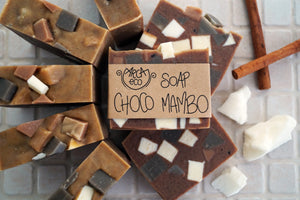 Choco Mambo
Are you ready for the sweetest shower? Choco Mambo is a deep nourishing soap, with cocoa and cinnamon powder. The spicy sting is rounded by the sweet orange essential oil that gives this soap a fresh touch as well.
The design speak to itself: it's beautiful and elegant.
INCI: Olea Europaea (Oliva) Fruit Oil, Cocos Nucifera (Cocco) Oil, Aqua, Sodium Hydroxide, Butyrospermum Parkii (Karité) Butter, Ricinus Communis Seed (Ricino) Oil, Theobroma Cacao (Cacao) Butter, Citrus Aurantium Dulcis (Arancia Dolce) Peel Oil, Cocoa Powder (Polvere di cacao), Cinnamomum Zeylanicum Bark (Cannella in polvere) Powder, Eugenia Caryophyllus Bud (Chiodi di Garofano) Oil, Charcoal Powder, Titanium Dioxide, d-Limonene*, Eugenol*, Myrcene*, Eugenyl Acetate*, Citral*, Linalool*.
*naturally occurs in essential oils.
Vegan soap.
Weight: 85gr aprox.
Avoid direct eye contact.
Note: as each soap is hand made and hand cutted, small variations might occur. That's the beauty of artisan products.